well not at first, but that's how they end up! Each spring, our Black Hereford mom's produce the future of the herd and, for that, they win a trip to the hills!
My lil Bro. Isn't he handsome?
The breeding schedule is very specific so to ensure that the calving season starts after our annual production sale in February. The cows, with their calves on the teat, head out to the rolling hills to spend the summer in April after burning is all taken care of. They get to be out there a few weeks before we let the bulls go. May 10-July10 is the window for the bulls to, *ahem*, get to work. According to any man, these bulls have the best job ever. 2 months in a field with 60 ladies, no responsibilities and then they spend the rest of the summer lounging around at the other ranch. Lucky Dudes!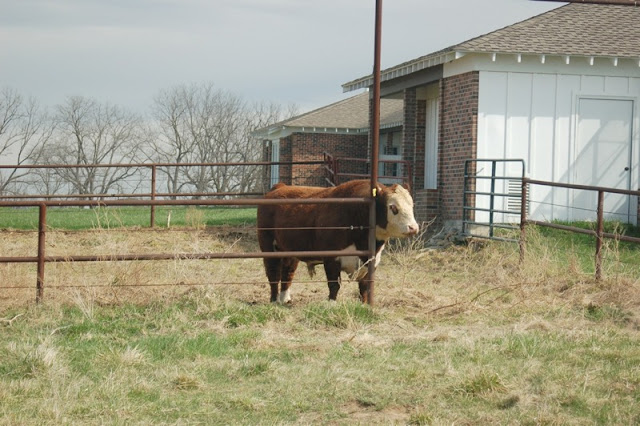 Enjoyin the life of a Bachelor
But, before the babies go out to the hills for their first "Nantucket Summer", they have to get worked. So, back to the factory line.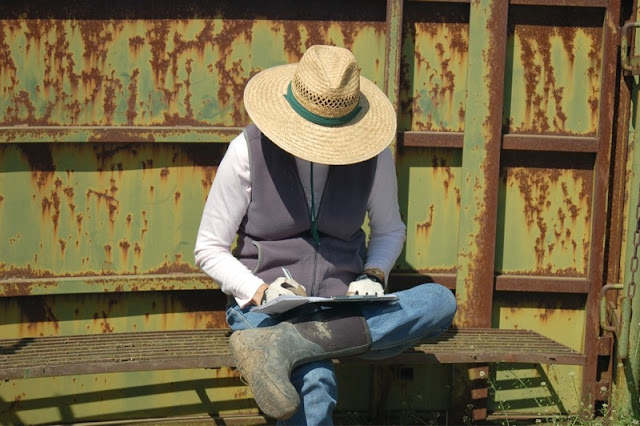 Mrs. Hoag Sr.
Vaccinate, tag, tattoo, lice dip and worm.. rinse and repeat. We work the pairs on the same day so the stress level stays very low. We round them up, separate them, and work straight through all of them so as to get them paired back up and in their fields in a timely fashion. The babies are always a little more of a challenge for multiple reasons but mainly because they're fun size.
We have to find a way to have them in the chutes (which they don't fit in) and try to catch their heads (which they are clearly too small for) so our Cowboys usually have to be pretty innovative for these work days.
John always seems to get the blunt end of the deal. I don't know if its because he's so skinny that getting in and out of there is easier or if Phil just always grabs the tattoo gun first.
Either way, our cowboys take a little bit of a beating as our babies work on making their jobs as difficult as possible... as most children do!
We use the tattoos in their ears for a similar reason that we brand. These babies will be registered Black Herefords for their lives so we tatoo them with their herd number that will coincide with their registration number. That way, if they ever lose their tag, we can check their ear to find out exactly who they are! .
Hi! I'm Y5
After a long day, we're all pretty wiped out. Maui, our German Shepherd rescue, has the toughest job of all... making sure everything stays put and "Mom" doesn't get hurt. She's my little bodyguard.
Ms. Maui